Unterpunkte
C. Miesen News
INTERSCHUTZ 2015
In the period from 8th - 13th June 2015 the INTERSCHUTZ Exhibition in Hannover opens its doors for visitors of the fields of Firefighting & Desaster M
more information
RettMobil 2015
As all the past years also this year we will be exhibiting at the 15th RETTmobil, the European Leading Exhibition for Rescue and Mobility Held in Fuld
more information
NEW SALES PARTNER FOR SWITZERLAND
We are pleased to inform you about another very important alteration that has come up in regards to our Sales and Distribution. With immediate effe
more information
Ambulance Vehicles
back
Exterior and interior presentation of the vehicle:

Front view:

Our specialists developed a Patient transport ambulance (PTA), based on Ford Transit, in accordance with DIN EN 1789.

The modular C.MIESEN design enables a wide range of different conversions. We adapt the ambulance to your individual needs.

The following pictures show one conversion of many possibilities…



Tail view:

A tidy and well organized patient's compartment lets you store all technical and medical supplies and equipment within a sufficient number of cabinets and stowage spaces.

LED spotlights, smooth integrated into the ceiling, provide an optimal illumination of the patient's room: the

lighting

is bright

and

warm,

a

pleasant

ambience

is guaranteed.

Stretcher table:

The C.MIESEN stretcher table is made of stainless steel. For easy loading and unloading the loading tray can be pulled out to the rear. A storage compartment for a scoop stretcher or a spine board is underneath the sliding stage. The head area of the stretcher can be placed downward (shock position).

View through the sliding door:

The partition wall was shifted to the rear approx. 100mm in order to increase the ergonomics in the driving cab.

The side panel cabinet offers a lot of stowage space for medical supplies.

At the sliding door entrance a large cabinet hosts emergency cases or backpacks.



A foldable patient chair is stored aside. It increases the flexibility of crew regarding patient transport from an emergency scene to the ambulance. Not in use the seat is space-saving folded away.

On this picture you also see the pleasant illumination caused by the LED spotlights.

Carrying chair:

A foldable carrying chair was placed in front of the partition wall cabinets, aside of the sliding door. From that door easy access to the chair is given.

The left compartment area stores additional medical supplies. Sliding Plexiglass windows shut these subjects. The blue color of the windows fits perfectly with the vehicle interior, which was made of blue and white materials.
Adresse
C. Miesen GmbH & Co. KG

Südstr. 119
D-53175 Bonn

Tel.: +49 228 54009 0
Fax: +49 228 54009 22
e-Mail: info@miesen.de
ON SALE: Miesen Ambulance on Volkswagen T5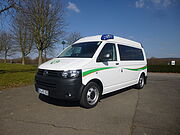 Miesen Ambulance on Volkswagen Transporter T5, wheelbase 3.400 mm, acc. DIN EN 1789 >>> DEMO-VEHICLE <<< Outside Color: candy-white Miesen Com.-No: 12157/ 14 Mileage: approx. 9.500 km Please see pictures for details. Further details are available with our Sales Team!
read more